𝙷𝚎𝚢 𝚎𝚟𝚎𝚛𝚢𝚘𝚗𝚎
𝕀 𝕒𝕞 𝕘𝕠𝕚𝕟𝕘 𝕥𝕠 𝕝𝕚𝕤𝕥 𝕔𝕠𝕞𝕞𝕖𝕟𝕥𝕤 𝕒𝕟𝕕 𝕒𝕟𝕕 𝕔𝕠𝕣𝕣𝕖𝕔𝕥 𝕥𝕙𝕖𝕞 𝕚𝕗 𝕥𝕙𝕖𝕪 𝕒𝕣𝕖 𝕨𝕣𝕠𝕟𝕘.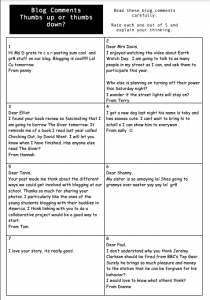 𝘊𝘰𝘮𝘮𝘦𝘯𝘵 1:worst,𝘛𝘩𝘪𝘴 𝘤𝘰𝘮𝘮𝘦𝘯𝘵 is the worst because it has 𝘩𝘢𝘴 𝘮𝘢𝘯𝘺 𝘴𝘭𝘢𝘯𝘨 𝘸𝘰𝘳𝘥𝘴 𝘢𝘯𝘥 𝘥𝘰𝘦𝘴 𝘯𝘰𝘵 𝘢𝘥𝘥𝘳𝘦𝘴𝘴 𝘱𝘦𝘰𝘱𝘭𝘦 𝘢𝘯𝘥 𝘵𝘩𝘪𝘯𝘨𝘴 𝘪𝘯 𝘢 𝘱𝘰𝘭𝘪𝘵𝘦 𝘮𝘢𝘯𝘯𝘦𝘳, 𝘴𝘰𝘮𝘦𝘵𝘪𝘮𝘦𝘴 𝘺𝘰𝘶 𝘮𝘢𝘺 𝘯𝘰𝘵 𝘶𝘯𝘥𝘦𝘳𝘴𝘵𝘢𝘯𝘥 𝘸𝘩𝘢𝘵 𝘴𝘰𝘮𝘦 𝘸𝘰𝘳𝘥𝘴/𝘴𝘭𝘢𝘯𝘨 𝘮𝘦𝘢𝘯.
comment 4: This comment has many spelling mistakes and sometimes the words have been made longer to show expression although you don't need to do that.
comment 6: In this comment words and numbers have been mixed and some may not understand what it means and some punctuation is not right.
comment 7: this comment is not describing the meaning enough.
comment 2: this comment is vey punctual and has polite and understanding manner It is paragraphed correctly.
comment 3: this comment does not have a comma after the name, it does not have a space after the saying dear…., Although it has a clear understanding.
comment 5: does not have a space after saying dear …, and does not have any paragraphs.
comment 8:Best:This comment has many reasons on the topic it is well written out and it has great punctuation, although there is no paragraphs.